This Cursed Gift
What do Maria Callas and Whitney Houston have in common?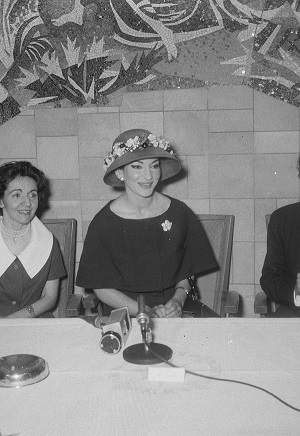 Kurt Vonnegut's sister could have, according to the author himself, been a remarkable sculptor. In 1977 he wrote in The Paris Review: 'I bawled her out one time for not doing more with the talents she had. She replied that having talent doesn't carry with it the obligation that something has to be done with it. This was startling news to me. I thought people were supposed to grab their talents and run as far and fast as they could.' Vonnegut is not alone in this widely held take on talent. If you've got good legs, you need to flaunt them. If you've got a pretty face, you best boast a smile. If you can sing, you've got to let yourself be heard. Innate talent comes with a duty; an obligation, a responsibility, a burden.
Maria Callas and Whitney Houston, singers from different generations and genres, did choose for their talent. Or perhaps more accurately, weren't able to escape it. The parallel screenings in Dutch theaters of Maria by Callas (Tom Volf, 2017) and Whitney (Kevin Macdonald, 2018) invites us to look for similarities between two very distinct women. Both were pressured and exploited by their parents; both maintained toxic relationships with egocentric men; both were burdened by their image; both died before they were old, unhappy and lonely. The two films are part of a new trend of biopics and documentaries about struggling, often tragic, artists: Amy Winehouse, Nico, Chavela Vargas, Nina Simone, Romy Schneider. These talented artists have one predominant thing in common: they are all women.
Maria Callas was born in 1932 in New York, as the youngest child of Greek immigrants. Her mother Litsa, who was expecting a boy, had an immediate aversion to the child. She preferred her eldest daughter, who would grow up to be a beautiful, slender woman. In comparison, the chubby and seriously near-sighted Maria was an ugly duckling. What she could do, was sing. Maria was five years old when she was sent to singing lessons.
Whitney Houston was born in 1963 in New Jersey, as the youngest in a family of singers. Whitney's first talent was being beautiful, as a baby she was already a sight to be seen. The fact that Whitney would sing was also written in the stars. Her career began in the church and extended itself to the stage. From fourteen years old, she did the same work her mother Cissy did: she worked in studios as a background singer.
Callas's parents divorced when she was a teenager. Litsa took her daughters back to Greece, where she enrolled Maria in the national conservatoire. Callas hated singing, she would later disclose in interviews; she never sang by herself. But she was at home on the stage, in front of an audience, a good friend told The Guardian after her death. And while she apparently felt no love for her profession, she did surrender herself to it. Everyone testifies to the impressive self-discipline and work ethic Callas already demonstrated as a teenager. It wasn't just her mother that pressured her, she pressured herself too.
Houston's career took flight. She was working as a model and performed in The Merv Griffin Show. Record labels were in a bidding war to get her to sign a record deal. But at home she was 'Nippy', as her family affectionately called her. Nippy liked to sleep. Nippy partied with her friends. Nippy was lazy, always dragging her feet. But her destiny was written. That the singer with the captivating smile and magical voice would be a sensation, was inevitable.
Whitney is a traditional documentary, told chronologically using old images and new interviews, with a large number of people involved. We are led through her life at high speed. Rapidly interwoven images of Ronald Reagan and Princess Diana tell us what decade we are in.
Maria by Callas takes its time. The documentary drifts calmly through Callas' life and gives center stage to her performances. The documentary chooses the form of a collage. Various archive material, including Callas' own super 8-films, is tied together by actress Fanny Ardant's voice over, reading Callas' personal letters. We only see the vocalist. We only hear her words, never an interpretation of those words, or a reflection on them. The result is a film that obscures rather than reveals. In Whitney the talking heads look straight into the camera, a technique that becomes more effective as the stories become more poignant. The more that Houston's story takes shape, the more aware we become of the empty space she left behind.
Houston breaks through as the cheerful and wholesome girl next door. She is picture perfect: beautiful, charismatic, uncomplicated. But, as it often goes with perfect pictures, behind it hides a person struggling with her self-image. Someone who, as suggested by one of her relatives, doesn't know who she is. The alleged relationship she had with her best friend Robyn is mentioned in Whitney but not elaborated on. As a viewer, you can draw your own conclusions: Houston kept the relationship a secret because homosexuality didn't fit in the image the public had of her. Did she choose to marry singer Bobby Brown because he was the perfect man? Or did she choose him because he was the perfect black man? For white audiences, she was the ideal black artist: as white as possible. For black audiences, or part thereof, she was not black enough, a sell-out. During the Soul Train Awards in 1989, the audience booed in response to her name.
Callas breaks through only after she drastically loses weight. The ugly duckling has finally transformed into the swan. She's a star. But as the story often goes with stars, she is plagued by scandals. The media portrays her as a prima donna. They describe her behavior as irrational, self-centered, emotional, demanding. In interviews, she insists that she is merely standing up for herself. She is being difficult, according to the newspapers. If Maria by Callas reveals anything, it is that Callas largely made things difficult for herself. She expected herself to live up to an impossible standard and held the bar just as high for those around her. Where Whitney paints their main character with broad brush strokes, Callas is sketched with fine detail. At the end of the film, there she is: a completely inward-looking woman, who is not able to love herself.
'There are two people in me', says Maria Callas at the beginning of the film. 'I would like to be Maria, but there is the Callas that I have to live up to.' The audience is not interested in nuance. They want a diva that is larger than life. An icon instead of a person. Whitney Houston is also made up of two people: the person and the persona. On stage she is Whitney, at home she is Nippy. Nippy can invoke Whitney, she shares in the documentary, but it doesn't work the other way around. 'The Whitney mask' is easier to put on than it is to take off; she finds it much harder to just be herself.
At some point in the documentary someone says that Houston purposefully sought out the traditional life of mother and wife. And Callas, too, always claimed that she would chose a family over a career. In The Paris Review, according to Vonnegut: 'What my sister said now seems a peculiarly feminine sort of wisdom. I have two daughters who are as talented as she was, and both of them are damned if they are going to lose their poise and sense of humor snatching up their talents.'
Callas and Houston gave themselves away. They gave a part of themselves to their manipulative parents, a part to their self-centered lovers, a part to their demanding audiences. Their desire for a traditional life was the desire to live a life that turned inward instead of outward. It was the desire to keep at least a small part for themselves. But they had already given everything away, there was nothing left. Callas would never have children. Houston did not know how to be a mother.
Houston dies when she is 48. She drowns in her bathtub, high, after years of drug addiction. By then, the image of Whitney as fresh-faced pop idol is already replaced by that of Whitney the junkie, a tragic joke.
Callas dies at the age of 53 of a heart attack, two years after the death of Aristotle Onassis, the great love that had disappointed her so. One year later, she is the subject of an American TV show. Her good friend John Ardoin is asked: was her art worth suffering for? 'Certain people are blessed – and cursed – with an extraordinary gift, in which the gift is almost greater than the human being', answers Ardoin, 'Callas was one of those people. It was as if her own wishes, her life, her own happiness were all subservient to this incredible, incredible gift that she was given.'
Lying in her mother's arms, exhausted after a performance, Cissy says to Whitney that she's been touched by God. Whitney does not respond to the comment. Maybe she has heard this her whole life, that God touched her and gave her this voice. Just like she might have heard how beautiful she is her whole life. That she was beautiful even as a baby.
There is something perverted in all these new films about tragic female artists. There is something undeniably awkward about the fact that we are watching someone fall victim to just that: being watched. But Whitney and Maria by Callas certainly do attempt to avoid the giddy sensation, and the clichés that these women have come to embody: diva, rejected lover, too white or too black, girl next door or junkie. Not only do they give back their humanity, they give back their artistry too.
---
Translation by Roxy Merrell
Originally published in De Groene Amsterdammer